Do You Really Want Everyone Looking At Your Food Diary?
Updated: October 22, 2013
By Scott Mowbray, editor of Cooking Light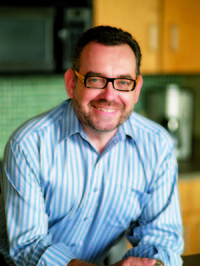 Part of the deal on the Cooking Light Food Lover's Social Diet, as I'm pompously calling this little effort, is that the MyFitnessPal and UP apps share progress with friends (or, in my case, with the board of advisors). At least they do if you allow that sharing. Folks can see not just whether you made your calorie goal today, but also exactly what you ate that led you to succeed or overshoot the mark. They see whether you ate 1,600 calories of balanced whole foods or stopped by Hardee's at midnight for a Thickburger and shake (not that any of us have done that).
I can go into Erin Clinton's diary and see that she had fat-free Chobani yogurt for breakfast, along with some Kashi cereal and nonfat milk, for a total of 278 calories — and also that she walked 27,000 steps, which is halfway from New York City to Buffalo, I think. However, until five minutes ago she could not see that I ate two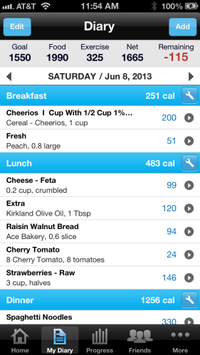 slices of 100-percent whole-grain bread with a tablespoon of American Spoon sour cherry preserves and a teaspoon of butter for, coincidentally, an identical 278 calories. Her breakfast had more protein (from the yogurt) and was probably better balanced.  
I basically felt shamed into sharing my diary: If Erin's sharing, don't I have to? But it creeps me out a little bit. One person considering joining our effort said she was simply too private — both regarding food and fitness — to possibly share.
But, of course, a food diary is like any other diary that you know will be read by others: You can always lie to it. So far, the UP band does not contain a lie-detector algorithm… but I'm sure that's coming. 
Have you used social apps to track weight loss? Comment here, email Scott_Mowbray@timeinc.com, and tweet @ScottMowb or @Cooking_Light using #SocialDiet.
Note: This post originally appeared on the Cooking Light blog, Simmer Boil. Check in on their progress at CookingLight.com/WeightLoss.
For more by Cooking Light, click here.
For more on diet and nutrition, click here.
Meet The Cooking Light Social Diet Board Of Advisors

Scott Mowbray is the editor of ema href="http://www.cookinglight.com/?xid=huffpo-ckl-social-diet-073113″ target="_hplink"Cooking Light/a/em and believes that every meal of every day should be absolutely delicious — just a bit less of it to be eaten from now on. He's set a 20-pound weight loss goal over 20 weeks, by Nov. 1

Erin Clinton

Erin handles PR and loves all things food — cooking, baking, eating, and drinking. Working at iCooking Light/i is a pretty sweet gig, even if it comes with some occupational hazards (you ican/i have one too many bites or sips!). When she's not writing press releases and pitches, she's in her home kitchen with her husband cooking and baking up a storm. All emCooking Light/em recipes, of course!

Allison Fishman Task

Allison is a contributing editor to and spokesperson for iCooking Light/i magazine. 2013 is a big year for her; on Valentine's Day she became mom to two delicious baby boys, and in October, she'll be birthing iLighten Up, America/i, a cookbook she wrote in collaboration with iCooking Light/i. Her goal is to lose the baby (or babies) weight by the time her book comes out.

Allison Lowery

Allison works on all things digital at iCooking Light/i, and in between posting and tweeting, she spends her time chasing after 2 little girls. Her weight loss goals are focused on fitness and spending just a bit more time on herself (spending any time will be an improvement).

Michelle Lamison

Michelle lives in Manhattan and — with moderate success — juggles a demanding marketing job at emCooking Light/em and a href="http://MyRecipes.com" target="_hplink"MyRecipes.com/a; a patient and forgiving husband; a hyperactive 7-year old son; and a way-too-sparse social life. It took 7 years, a combination of Weight Watchers (she's a lifetime member), regular personal training sessions, and a colorful assortment of mid-life crisis', but she is proud to be fit and back to her pre-pregnancy weight.

Patrick Pittman

Patrick Pittman is 44, went to nursing school for his midlife crisis, works in an ICU in Birmingham, and takes care of twin 7-year-old boys during the week. He played soccer nearly all his life, but stopped when the twins arrived. While he doesn't miss the competition, he wants to be back in shape and just healthier in general. People think of him as patient, but he really thrives on quick, noticeable results.

Sean Kelley

Sean Kelley is an editor, writer, and video producer of health and wellness content. He splits his time between a small farm in Alabama where he raises two kids amongst okra, peas, and honey bees, and Atlanta, where he works for Sharecare. His goal is to lose 20 pounds by Jan. 1.

Follow Cooking Light on Twitter:

www.twitter.com/Cooking_Light